The Wharton Partnership is the network of corporations and foundations that helps fuel Wharton's contributions to the world. Partners contribute human capital and financial resources in Wharton's research enterprise, creating knowledge to advance business. They recruit at Wharton to infuse their organizations with qualities embodied by our students. Partners engage with the School to help them solve their biggest problems.
Your business faces challenges. Wharton has solutions: people, ideas, know-how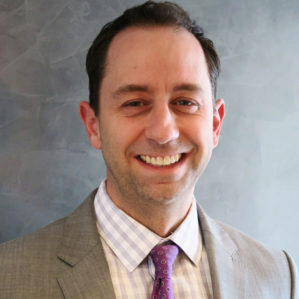 Wharton is a destination for companies seeking inspiration to solve their biggest problems — because we study those problems every day. Our collaborations with companies help us disseminate what's learned here, and put Wharton solutions to work.
Together with Wharton's Corporate Partners, we have generated groundbreaking new ideas, connected companies to extraordinarily talented students, and transferred Wharton ingenuity to business. A small sampling of our Partners' stories are represented here. If you can see your company in any of these examples — or if you can imagine expanding on these ideas and exploring new horizons together — please give me a call.
Bob Paul
Director, Corporate and Foundation Relations
The Wharton School
Let's start a conversation.
Fill out the form below or for immediate help, please call +1.215.898.3394 or email rpaul@wharton.upenn.edu.
We look forward to hearing from you.
FY2020 Wharton Partnership Members
$100,000+
$50,000—$99,000
$25,000—$49,999
$10,000—$24,999
Accenture, Inc.
Air Liquide
AKO Foundation
Arnold Ventures
Bank of America
Baring Private Equity Asia
Brandywine Global Investment Management
Calvert
W. P. Carey Foundation, Inc.
CDIB Capital International Corporation
Decision Research
Desert Flower Foundation
EY
First Seafront Financial
Bill & Melinda Gates Foundation
Goldman Sachs
Haddad Brands
The Leif Hoegh Foundation
Hopson Education Charitable Funds Limited
Humana, Inc.
Jacobs Foundation
Johnson & Johnson
The Robert Wood Johnson Foundation
Meadow Lake Mechanical Pulp
Mile Twenty Six
MultiPolar TBK
The Northern Trust Company
Primerose Development Group, Ltd.
Ripple
Sento Investment, Ltd.
Alfred P. Sloan Foundation
Starboard Value Charitable Fund
Super Rainbow Enterprises
TIAA
Tocqueville Group
Travelers
Two Six Capital, LLC
Universal (Hong Kong) Technology
Vanguard
Yageo
Executive Directors ($50,000—$99,999)
AIIR Consulting
Cubic Mission Solutions
Electronic Arts
Essity USA
Evite
Fulton Bank
Innovyze
Lidl US
McKinsey & Company, Inc.
MOD Worldwide
Momentum Group
Pietas Foundation Inc.
Pool Reinsurance Company Limited
Reinsurance Group of America (RGA)
TE Connectivity
Robert A. Toigo Foundation
Visa Foundation
Wellspring Philanthropic Fund
Directors ($25,000—$49,999)
Almanac Realty Investors, LLC
AmWINS Group
AQR Capital Management
Banco BTG Pactual S. A.
The Lynde and Harry Bradley Foundation
Credit Suisse
Deloitte
Deutsche Bank AG
Eastern Shore Natural Gas Co
Enterprise Holdings, Inc.
FMR Corporation
GAF
Gunnarsson Consulting, LLC
HealthCore, Inc.
Industrial Advisory Services LLC
Kepos Capital LP
Kramer Levin
Lloyds America, Inc.
McKinley Capital Management
Mercedes-Benz
Microsoft Corporation
Morgan Stanley
National Association of Insurance Commissioners
Penguin Random House
The Rubenstein Foundation
State Farm
State Street Global Advisors
Tata America International Corporation
Teradata Corporation
TransRe
Two Sigma Insurance Quantified
SAP
SEB
Wells Fargo
Willis Re Inc
Associates ($10,000—$24,999)
ActivumSG
Alice + Olivia LLC
Angelo Gordon
Argosy Real Estate
Bank J. Safra Sarasin Ltd, Singapore Branch
Blackstone Group L.P.
Blank Rome LLP
Brause Realty, Inc.
Brookdale Group
Campus Apartments
Capital Group, Inc.
Capital Solutions, Inc.
W. P. Carey Inc.
Centennial Real Estate
CenterSquare Investment Management
Corigin Real Estate Group
Crow Holdings
Eastdil Secured, LLC
Equity Commonwealth
Ernst & Young Foundation
Exxon Mobil Corporation
Farallon Capital Management LLC
FINRA
Firstrust Bank
Gazit Group USA, Inc.
GEM Realty Capital
General Mills
Genentech, Inc.
Geneva Association
Global Holdings Management Group
Greystar
The Goldman Sachs Group, Inc.
Goulston & Storrs
H/2 Capital Partners LLC
Hersha Hotels & Resorts
HighBrook Investments Management
Hines
K. Hovnanian Companies, LLC
Hudson Advisors
International Foundation of Employee Benefit Plans
Investment Company Institute
Keystone Property Group
Korman Communities
JBG Properties, Inc.
JPMorgan Chase & Co.
LaSalle Investment Management, Inc.
Lazard Freres & Co. LLC
Mack Real Estate Group
McCarthy Cook & Company
McGuyer Home Builders, Inc.
Morgan Properties
Newport Capital Partners
Nippon Life Insurance Company
Pacific Coast Capital Partners, LLC
Panasonic Corporation
Pantzer Properties, Inc.
Paramount Group, Inc.
PIMCO
Post Commercial Real Estate, LLC
Prudential Financial
Red Steel Properties
Related Companies
Resource Real Estate, Inc.
Royal Abstract of New York
Schneider National, Inc.
Silverstein Properties
Strada Education Network
Starwood Capital Group
SUEZ
TIE Capital Partners
Two Trees Management
Vance Group
Verde Capital
Willis Towers Watson

If you would like more information on the Wharton Partnership, please contact the Office of Corporate and Foundation Relations at rpaul@wharton.upenn.edu or +1.215.898.3394.