The Wharton Partnership is the network of corporations and foundations that helps fuel Wharton's contributions to the world. Partners invest human capital and financial resources in Wharton's research enterprise, creating knowledge to advance business. They recruit at Wharton to infuse their organizations with qualities embodied by our students. Partners engage with the School to help them solve their biggest problems.
Your business faces challenges. Wharton has solutions: people, ideas, know-how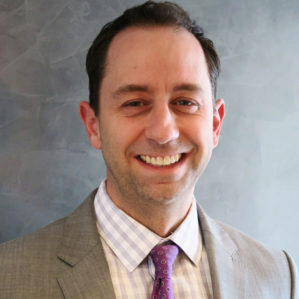 Wharton is a destination for companies seeking inspiration to solve their biggest problems — because we study those problems every day. Whether it's faculty using corporate datasets to develop statistical models, or students applying their classroom learning to a "sticky" business problem, our partnerships with companies push us beyond simply disseminating what's learned here: We help businesses put Wharton solutions to work.
Together with Wharton's Corporate Partners, we have generated groundbreaking new ideas, connected companies to extraordinarily talented students, and transferred Wharton ingenuity to business. A small sampling of our Partners' stories are represented here. If you can see your company in any of these examples — or if you can imagine expanding on these ideas and exploring new horizons together — please give me a call.
Bob Paul
Director, Corporate and Foundation Relations
The Wharton School
Let's start a conversation.
Fill out the form below or for immediate help, please call +1.215.898.3394 or email rpaul@wharton.upenn.edu.
We look forward to hearing from you.
2016—17 Wharton Partnership Members
$100,000+
$50,000—$99,000
$25,000—$49,999
$10,000—$24,999

Roll over the red-highlighted

Partnership Members to learn more.
Accenture, Inc.
Akamai Nominees
AKO Foundation
Baring Private Equity Asia
Brandywine Global Investment Management, LLC
CDIB Capital International Corporation
Danam Corporation
Desert Flower Foundation
Electronic Arts
First Seafront Financial
Gaw Capital Partners
Goldman Sachs
Kahn Lucas
Laura and John Arnold Foundation

Noah Holdings
Northern Trust
Passion Growers LLC
SEI Investments Company
Spruce Capital Partners
The Travelers Companies, Inc.
Two Six Capital
W. P. Carey Foundation, Inc.
Wharton Penn Club of the Philippines
Willowbridge Associates
Windsor Investment Fund
Yageo
Z Zurich
Z Zurich
Executive Directors ($50,000—$99,999)
4202 Corporation
Alfred P. Sloan Foundation
CTBC Bank Corp. (USA)
Ewing Marion Kauffman Foundation
FMC Corporation
Fubon Financial
General Electric Company
Innovyze, Inc
Jardines
Johnson & Johnson
The John D. and Catherine T. MacArthur Foundation
Michelson Medical Research Foundation
JPMorgan Chase & Co.
Morgan Stanley
Pfizer, Inc.
Robert A. Toigo Foundation
Wells Fargo
William T. Grant Foundation
WNS
Directors ($25,000—$49,999)
Abax Global Capital
American Insurance Association
American International Group, Inc.
Ansell
AJO
Bank of America Corporation
The Lynde and Harry Bradley Foundation
Capital One
CHEP
Christian Lacroix
Credit Suisse
Destination NSW/NSW Government
Donnelley Financial Services
The Dow Chemical Company
Enterprise Holdings, Inc.
Eurolife
Facebook
GlaxoSmithKline
Global Payments Inc.
Google
H/2 Capital Partners LLC
The Hershey Company
Huawei Technologies USA
Jacobs Engineering Group Inc.
Kepos Capital
Legg Mason, Inc.
Liberty
Liberty Mutual Insurance
Link REIT
Lloyd's America, Inc.
Marsh & McLennan Companies
McKinley Capital Management, LLC
MetLife
Microsoft
Munich Reinsurance America, Inc.
Navigant
Property Casualty Insurers Association of America
Prudence Investment Management (Hong Kong) Limited
Prudential
Quadrant Private Equity
Quicken Loans
Robeco
Rubicon Global
Ryder System, Inc.
State Farm
Tata Communications
Teradata Corporation
TIAA
TransRe
TVS Motor Company
United Technologies Corporation
Vanguard Group, Inc.
Veolia North America
Associates ($10,000—$24,999)
Aberdeen Asset Management Inc.
Aetna, Inc.
Alice + Olivia LLC
Allianz SE
Almanac Realty Investors, LLC
AARP
Amerimar Enterprises, Inc.
Angelo, Gordon & Co., LP
ARAMARK Corporation
Arden Group
ASB Capital Management, Inc.
Ascena Retail Group, Inc.
Bank of America Merrill Lynch
Bemis Company Inc
BlackRock Financial Management
Blackstone Group L.P.
The Boston Consulting Group, Inc.
Brause Realty, Inc.
Brookdale Realty Services LLC
Buckingham Capital Management, Inc.
Burlington Stores, Inc.
BW 512, Inc.
Campus Apartments, Inc.
Candlebrook Properties, LLC
Capital Group, Inc.
CBRE
CEB
Center for Curiosity Inc.
Cigna Corporation
Comcast Corporation
Corigin Real Estate Group
Cozen O'Connor
CultureIQ
Cypress Real Estate Advisors
Davidson Kempner Capital Management
Dermody Capital
RREEF Real Estate
Dick's Sporting Goods
ESPN
Eastdil Secured, LLC
Global Holdings Management Group
Equity Group Investments
Equity Residential
Extreme Living LLC
Farmers Insurance Group
Fidelity Investments
FINRA
Firstrust Bank
Fritz Pollard Alliance Foundation
G III Leather Fashions, Inc.
Gazit Group USA, Inc.
Gem Capital LLC
General Mills, Inc.
GIC Real Estate, Inc.
Glenmede Trust Company
Global Brands Group
Greystar
Haddad Brands
Equity Industrial Partners
H/2 Capital Partners LLC
Hersha Hospitality
HFF LP
High Rise Capital Management, LP
Hines Interests Limited Partnership
Lone Star Funds
Humanyze
International Council of Shopping Centers
International Foundation of Employee Benefit Plans
Investment Company Institute
JSRE Management
K. Hovnanian Companies, LLC
Keystone Property Group
Kohl's Corporation
Korman Communities
LaSalle Investment Management, Inc.
The Estée Lauder Companies
Lazard
Le MERIDIEN San Francisco
Long Pond Capital
Lucky Brand
LVMH-Moet Hennessy Louis Vuitton
Mack Real Estate Group
Macy's/Bloomingdale's
McCarthy Cook & Company
McDowell Properties, Inc.
McGuyer Homebuilders, Inc.
Mericle Commercial Real Estate Services
Morgan Properties
Morgan Stanley
Mutual of America
Navigant Consulting, Inc.
NBA China
Newport Capital Partners
Nordstrom
Novel Enterprises Limited
Och-Ziff Real Estate
Ontario Pension Board
Pacific Coast Capital Partners, LLC
Palladin Consumer Retail Partners, LLC
Pantzer Properties, Inc.
Paramount Group
Park Hill Real Estate Group
Perry Ellis International
PIMCO
PKS Executive Search & Consulting
Post Commercial Real Estate, LLC
T. Rowe Price Group, Inc.
Purdue Pharma
PVH Foundation
Resource Real Estate, Inc.
Richard L. Tomlinson II, LLC
Robert K. Futterman & Associates
Royal Abstract of New York LLC
Safeguard Scientifics, Inc.
SharedXpertise Media
The Silverfern Group
Silver Spring Capital Management
Silverstein Properties, Inc.
Simon Property Group, Inc.
Society of Actuaries
Spark Therapeutics
Spencer Gifts LLC
Starwood Capital Group
State Street Bank and Trust Company
Stoltz Real Estate Partners
Thackeray Partners LP
Total Wine & More
TrustSphere
Two Trees Management Company
W. P. Carey & Co., LLC
Walentas Foundation
Waypoint Residential
William T. Morris Foundation
Willis Towers Watson
WP Realty, Inc.
Zoomi, Inc.

If you would like more information on the Wharton Partnership, please contact the Office of Corporate and Foundation Relations at rpaul@wharton.upenn.edu or +1.215.898.3394.