The Wharton Partnership is the network of corporations and foundations that helps fuel Wharton's contributions to the world. Partners invest human capital and financial resources in Wharton's research enterprise, creating knowledge to advance business. They recruit at Wharton to infuse their organizations with qualities embodied by our students. Partners engage with the School to help them solve their biggest problems.
Your business faces challenges. Wharton has solutions: people, ideas, know-how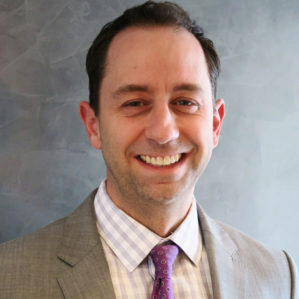 Wharton is a destination for companies seeking inspiration to solve their biggest problems — because we study those problems every day. Whether it's faculty using corporate datasets to develop statistical models, or students applying their classroom learning to a "sticky" business problem, our partnerships with companies push us beyond simply disseminating what's learned here: We help businesses put Wharton solutions to work.
Together with Wharton's Corporate Partners, we have generated groundbreaking new ideas, connected companies to extraordinarily talented students, and transferred Wharton ingenuity to business. A small sampling of our Partners' stories are represented here. If you can see your company in any of these examples — or if you can imagine expanding on these ideas and exploring new horizons together — please give me a call.
Bob Paul
Director, Corporate and Foundation Relations
The Wharton School
Let's start a conversation.
Fill out the form below or for immediate help, please call +1.215.898.3394 or email rpaul@wharton.upenn.edu.
We look forward to hearing from you.
2019–20 Wharton Partnership Members
$100,000+
$50,000—$99,000
$25,000—$49,999
$10,000—$24,999
Accenture, Inc.
Akamai Nominees
AKO Foundation
Arnold Ventures
Asia Symbol (Hong Kong) Trading Co. Limited
Brandywine Global Investment Management
CCI Corporation
Danam
Desert Flower Foundation
E-House China
Electronic Arts
First Seafront Financial
Goldman Sachs
Haddad Brands
Jacobs Foundation
Johnson & Johnson
Majid Al Futtaim Holding
Northern Trust
Redsun Properties Group
RGAX
Ripple
Schmidt Futures
Sento Investment, Ltd.
Simons Foundation
Alfred P. Sloan Foundation
Spruce Capital Partners
TIAA
Tocqueville Group
Two Six Capital
The Travelers Companies, Inc.
Universal (HK) Technology Co. Ltd
The Vanguard Group
Wharton Penn Club of the Phillipines
Yageo
Yuwell
Executive Directors ($50,000—$99,999)
AIIR Consulting
Bank of America Merrill Lynch
CTBC Holding
Cubic Mission Solutions
Deloitte
Evite
The Flood Insurance Agency, Inc.
FMC Corporation
Ford Foundation
William T. Grant Foundation
HealthCore, Inc.
Innovyze
International Institute for Applied Systems Analysis
LaSalle Investment Management, Inc.
The Estée Lauder Companies
Marsh & McLennan
MOD Worldwide
Momentum Group
Morgan Stanley
Nissan Motor Co., Ltd.
Point 72 Asset Management, L.P.
Reinsurance Group of America (RGA)
Russell Sage Foundation
SUEZ
Tara Health Foundation
Robert A. Toigo Foundation
Wells Fargo
Directors ($25,000—$49,999)
AJO
Credit Suisse
EuroLife
Google
Graduate Management Admission Council (GMAC)
Hall Royce Consulting LLC
Industrial Advisory Services
Institute for Catastrophic Loss Reduction
LaSalle Investment Management, Inc.
Liberty Mutual
Lloyd's
McKinley Capital Management, LLC
Mercedes-Benz
Microsoft Corporation
Nationwide
Rubenstein Partners
Rubicon Global
SharedXpertise Media
Starwood Capital Group
State Bank of India
State Farm Fire
Sumitomo Mitsui Banking Corp
Tata Communications
Teradata Corporation
WeWork
Willis Re
WP Realty
Associates ($10,000—$24,999)
Ankura Consulting Group
Angelo, Gordon & Co., LP
AARP
Activum SG
AGCO Corporation
AIG
Alice + Olivia LLC
Almanac Realty Investors
American Asset Company
Aramark Corporation
Arbor Commercial Mortgage LLC
Arden Group
Argosy Real Estate
ASB Capital Management, Inc.
Ascena Retail Group, Inc.
Bain Capital
BetterUp
BlackRock
Blackstone Group L.P.
Boston Consulting Group
Brause Realty, Inc.
The Brookdale Group
Buckingham Capital Management, Inc.
Burlington Stores
Campus Apartments, Inc.
Candlebrook Properties, LLC
Cantor Fitzgerald Relief Fund
Cantor Fitzgerald, L.P.
Capital Group, Inc.
Capital Solutions, Inc.
CBRE
CenterSquare Investment Management
Century Golf Partners Management
Cerberus Capital Management
Chevron Products Company
C-III Capital Partners
Christian Lacroix
Cigna
Citigroup
Comcast Corporation
Corigin Real Estate Group
The Cotswold Group
Cozen O'Connor
Cushman & Wakefield, Inc.
Dechert LLP
Dick's Sporting Goods
DLA Piper (US) LLP
El Corte Ingles
Emsi
Equity Commonwealth
Farfetch
Fidelity Investments
FINRA
First American Title Insurance Company
First Trust Bank
G III Leather Fashions, Inc.
Gazit Group USA, Inc.
Gem Realty Capital, Inc.
GIC Real Estate, Inc.
Glint Inc.
Global Holdings Management Group
Greystar
H/2 Capital Partners LLC
HDFC Bank, Inc.
Hersha Hotels and Resorts
HFF LP
Honeywell, Inc.
Hovnanian Enterprises, Inc.
Hudson Advisors UK
Kahn Lucas Lancaster
Kohn Pedersen Fox Associates
International Foundation of Employee Benefit Plans
Investment Company Institute
Jones Lang LaSalle
JPMorgan Chase & Co.
JSRE Realty
Keystone Property Group
Kohn Pedersen Fox Associates
Korman Communities, Inc.
Lazard Freres & Co. LLC
LinkedIn Corporation
Mack Real Estate Group
Marsh & McLennan Companies
McCarthy Cook
McGuyer Homebuilders, Inc.
Mercer
Morgan Properties
Mutual of America
Navega.com, S.A.
Novel Enterprises Limited
Ontario Pension Board
Pacific Coast Capital Partners
Palladin Consumer Retail Partners, LLC
Panasonic
Pantzer Properties, Inc.
Paramount Group, Inc.
Park Hill Real Estate Group
Peakon
Perry Ellis International, Inc.
Pimco
PKS Executive Search & Consulting
Post Brothers
Principle Capital
Prudential Financial
Prudential Real Estate Investors
Ralph Lauren Corporation
RedSteel Properties
Related Companies
Resource Real Estate, Inc.
Robert K. Futterman & Associates
Royal Abstract of New York
Silverstein Properties, Inc.
Society of Actuaries
Spencer Gifts Inc
Starwood Capital Group LP
State Street Global Advisors
Stoltz Real Estate Partners
Summerhaven Investment Management LLC
Susquehanna Holdings Company
T. Rowe Price
Tapestry, Inc.
The Corcoran Group
The Georgetown Company
Tory Burch, LLC
TrustSphere
Two Trees Management Company LLC
Verde Capital
W. P. Carey Inc.
Wal-Mart Stores Inc
Waypoint Residential
Willis Towers Watson

If you would like more information on the Wharton Partnership, please contact the Office of Corporate and Foundation Relations at rpaul@wharton.upenn.edu or +1.215.898.3394.