You can partner with Wharton's world-renowned faculty and generate knowledge that can dramatically affect your business.
Working across a range of business disciplines, faculty conduct research at the leading edge of their fields.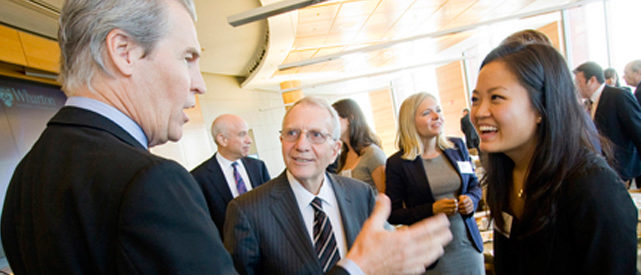 Collaborate with Faculty and Students
Many of the school's research centers offer opportunities for companies to work with faculty and students on developing research topics and advancing knowledge.
Discuss Issues Facing Your Industry
As a Wharton Partner, you can network and share knowledge at conferences, meetings, and roundtable discussions with business leaders, academics, and students.
Research Centers & Initiatives
At Wharton's 20 research centers and initiatives, faculty conduct global research, organize and produce high-level conferences, and create new curricula. Many put theory to the test through actionable programs such as societal wealth creation in Africa and leveraging customer analytics with industry partners.
Stay Up on New Ideas in Business
Partner companies receive newsletters, journals, and early access to working papers and research conducted by Wharton faculty, doctoral students, and other leading academics.
Wharton Corporate and Foundation Relations can help you connect with one of our research centers or initiatives.